About Us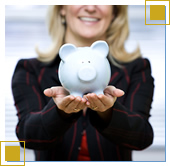 The Middlesex County Employees Federal Credit Union has been in existence since 1967. We are federally chartered and have to follow the rules and regulations set by the National Credit Union Association "NCUA". Our books and policies are audited at least once a year. All accounts are insured by NCUA for up to $250,000.
We now have about 2,000 members who consist of Middlesex County employees, City of New Brunswick employees, and various autonomous agencies of the County, City and also their families. We are expanding our membership to other businesses and townships of Middlesex County. Once a member always a member!!
Credit union terms are different from banking terms, our share account is a savings account. Our share draft is a checking account. Interest credited is called dividends. A credit union member is a shareholder in the credit union.
You may ask yourself - What can a credit union do for me? Our first response is you pay yourself first. By payroll deduction your set amount goes directly into a savings account. No more saying "I have to go to the bank and put some money away for a rainy day". We know it's hard to do.
Becoming A Member
To qualify for membership you must be a Middlesex County Employee, a City of New Brunswick employee,or a Corporation of Middlesex County or various Municipalities. Or call us at  (732) 745-3867 for further eligibility. Fax Number: (732) 745-3705

include("footer.php"); ?>